This is one of my very favorite projects. Not only because it came out well, if I may say so myself, but because 95% + work was done by me. The only help I had, was for were two people where required – one to hold and the other to cut or install.
So lets start the story with couple of before photos:
The inspiration for this room came from Biltmore Estate Oak sitting room: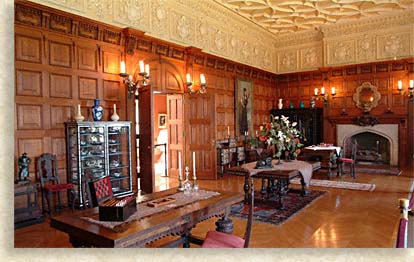 Of cause I was not able to do as elaborate job, nor would it really fit in regular house, but you will see how my interpretation came out.
After drawing out every weird corner and problem area on paper, I started by building the frame:
Before I could start installing the paneling, I had to decide what color I wanted to use for the stencil that I was going to do on some of the panels. Here is little test I did to make this decision:
As the black stain looked too dark under the dark stain I was going to use as the main stain and as I had used the dark stained stencils previously in my great room projects, I decided to use gold this time.
Once this was decided, I was able to stencil the desings to the panels and install them:
As you can see, the only thing that was stainde before installation, was the crown molding. Once the paneling was all installed, the only thing left to do was to stain it all.
Here are some final photos with the room done:
Here is a close up of the panel with design:
One more finished photo:
This project took me little over two months to complete, but it was fun all throughout.